Our Nutrition Services Department still needs your input on meal service. Please fill out the brief survey here:
https://bit.ly/3ko9WRk
PRESS RELEASE DATE/TIME: Tuesday October 15, 2019, at 3:25 p.m. INCIDENT: Burglary LOCATION: 17311 Sultana Street, Hesperia. Sultana High School SUSPECTS: Marcus Penn, 18, Oakland, CA. VICTIMS: Confidential 5 Minor Children, Students of the High School. SUMMARY: On Tuesday October 15, 2019, at approximately 1500 hours, the suspect, a non-student or resident entered the school grounds without permission or lawful purpose. The suspect entered the boy's locker room and searched through the varsity football players' backpacks; he removed 5 cell phones and one gold necklace. The value of stolen items is approximately $ 2,600. After removing the items from the backpacks, the suspect fled the scene in a rented 4 door white Mazda 3 vehicle, License plate #8BXC732. On Wednesday October 16, 2019, one of the owners of a stolen phone contacted the Hesperia School Police and provided them with an address of the possible location of the stolen phone. The HUSD School Police contacted the suspect a rented home and located the 5 stolen cell phones and the gold necklace. The investigation revealed the suspect travelled to the High Desert area from Oakland, rented a home for a week, and then utilized a list of schools to burglarize. His main focus was to search for cell phones during his time inside the campuses. After the thefts he was to return Oakland for the purpose of selling the Items. The suspect was arrested for Burglary and possession of stolen property. He was transported and booked at the High Desert Detention Center. Anyone with information about this investigation is asked to contact Officer Caleb Mullinax at (760) 244-1091 or Sheriff's Dispatch at (760) 956-5001. Callers wishing to remain anonymous are urged to call the We-Tip Hotline at 1-800-78CRIME (27463), or you may leave the information on the We-Tip website at
www.wetip.com
. Case No. 10-10-0043 STEVE HINOJOS, Chief of Police Hesperia School Police, Hesperia Unified School District

Hesperia Unified School District is pleased to announce that we will be using the Raptor Visitor Management System in all of our schools as part of our campus safety programs for students and faculty. All visitors, volunteers, and visiting staff will be asked to present a government-issued ID, such as a Driver's License, state ID, etc. The Raptor system only checks the visitor's name and date of birth for comparison with a national database of registered sex offenders. No other data from the ID is gathered or recorded. The system is not connected to any other database such as the Department of Motor Vehicles, and information is not shared with any outside agency. This implementation will help increase the efficiency in our offices, allowing District-approved volunteers to spend their valuable time in classrooms instead of in the front office. Thank you, in advance, for your support in enhancing safety in our schools. #IMPACTtheFutureHUSD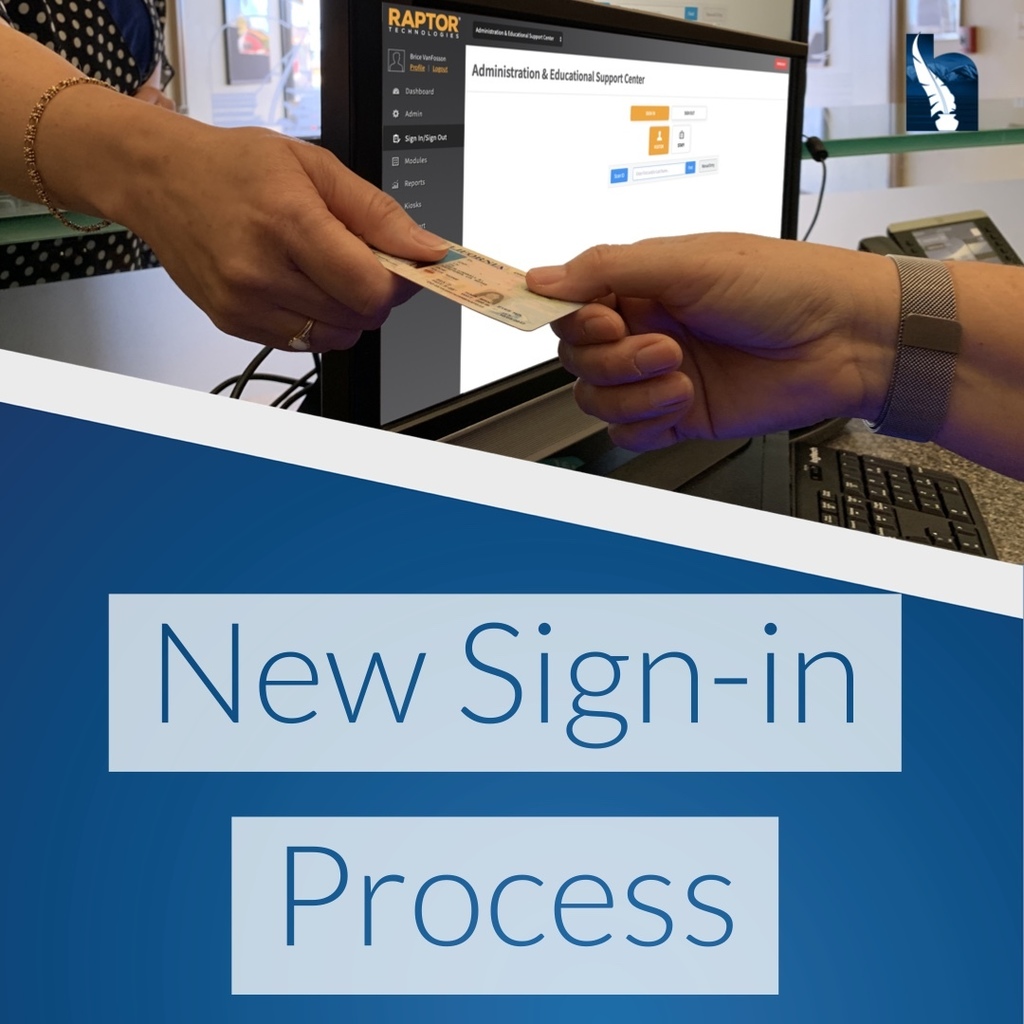 There is NO SCHOOL on Friday, May 24th for a planned Snow Day or Monday, May 27th in observance of Memorial Day. Juniper Elementary has school tomorrow May 24th to make up for an unplanned school closure on March 6, 2019, caused by an electrical outage. Enjoy your long weekend! We'll see you back for our last three days of this school year beginning Tuesday, May 28th!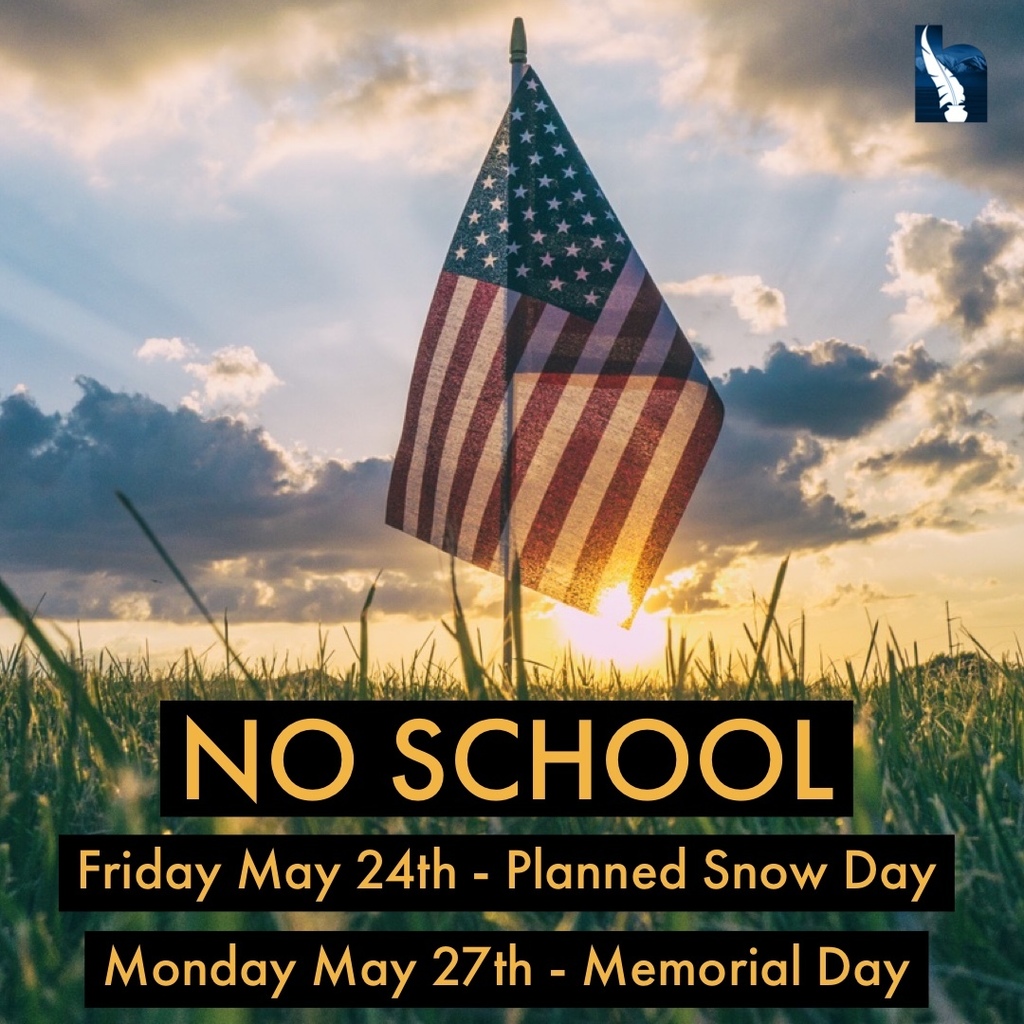 We are loving our new app! Access student stories, staff contact information, cafeteria menus, news, and even emergency notifications, right from your pocket. Download the app on Android:
http://bit.ly/2F1j1is
or iPhone:
https://apple.co/2Fjk8tt
.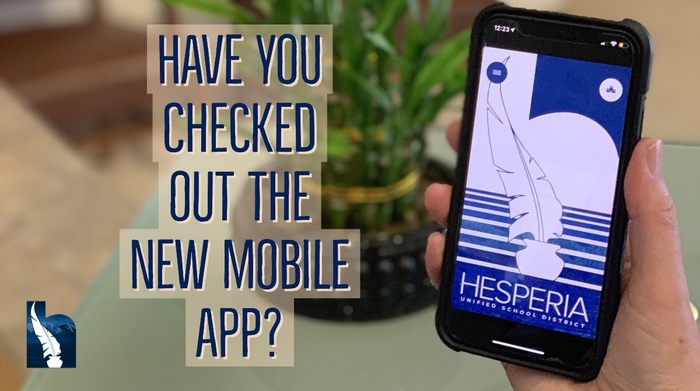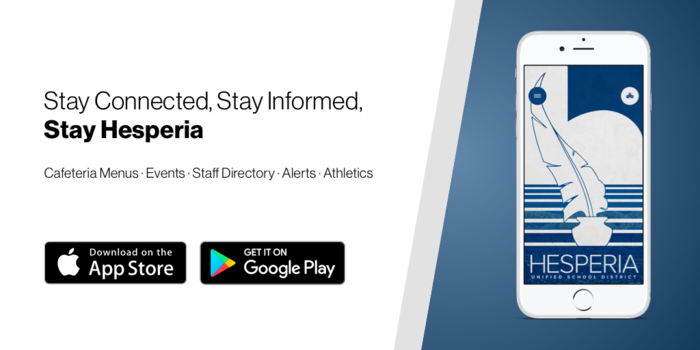 Hesperia Unified School District will be closed on February 18, 2019 in observance of Presidents Day. Classes resume on Tuesday, February 19, 2019. Please have a safe three day weekend!

Hesperia Unified School District will be closed on Monday, February 11, 2019 in observance of Lincoln's Birthday. Classes resume on Tuesday, February 12, 2019. Please have a safe three day weekend!

ATTENTION FEDERAL EMPLOYEES: Catholic Charities is offering food vouchers for all federal employees and their families affected by the current shutdown. Call Alejandra Diaz at (760) 243-1100 for more information.

HUSD will be closed on Monday, November 12, 2018 in observance of Veterans Day. Classes will resume on Tuesday, November 13, 2018. Please have a safe 3 day weekend!

Daylight saving time ends Sunday. Set your clock back one hour before going to bed Saturday night, November 3rd.