Attention Hesperia Unified School District Families:It's time to participate in this year's LCAP Survey. The feedback from this survey helps guide the district's decision making process and we want to hear from you. The survey will be open until April 3. Also, if you wish to participate in a stakeholder committee to review results, please contact your school site...
A recent social media challenge directed at children and young adults, called the "Momo Challenge", is creating concern throughout the country. Hesperia Unified is urging parents to become aware of this challenge and monitor their children's use of social media and the internet. The "Momo Challenge" can be found on Facebook, YouTube, and/or "WhatsApp" and is...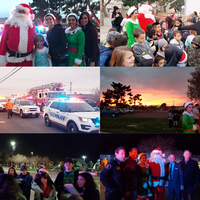 Tis' the Season for Children, Cocoa and Candy Canes! This year's Jolly Parade was bigger then ever. Thank you to everyone who volunteered to make this special event happen in our community. Also, a big shout out to all the families who came out to participate and show support. Until next year....